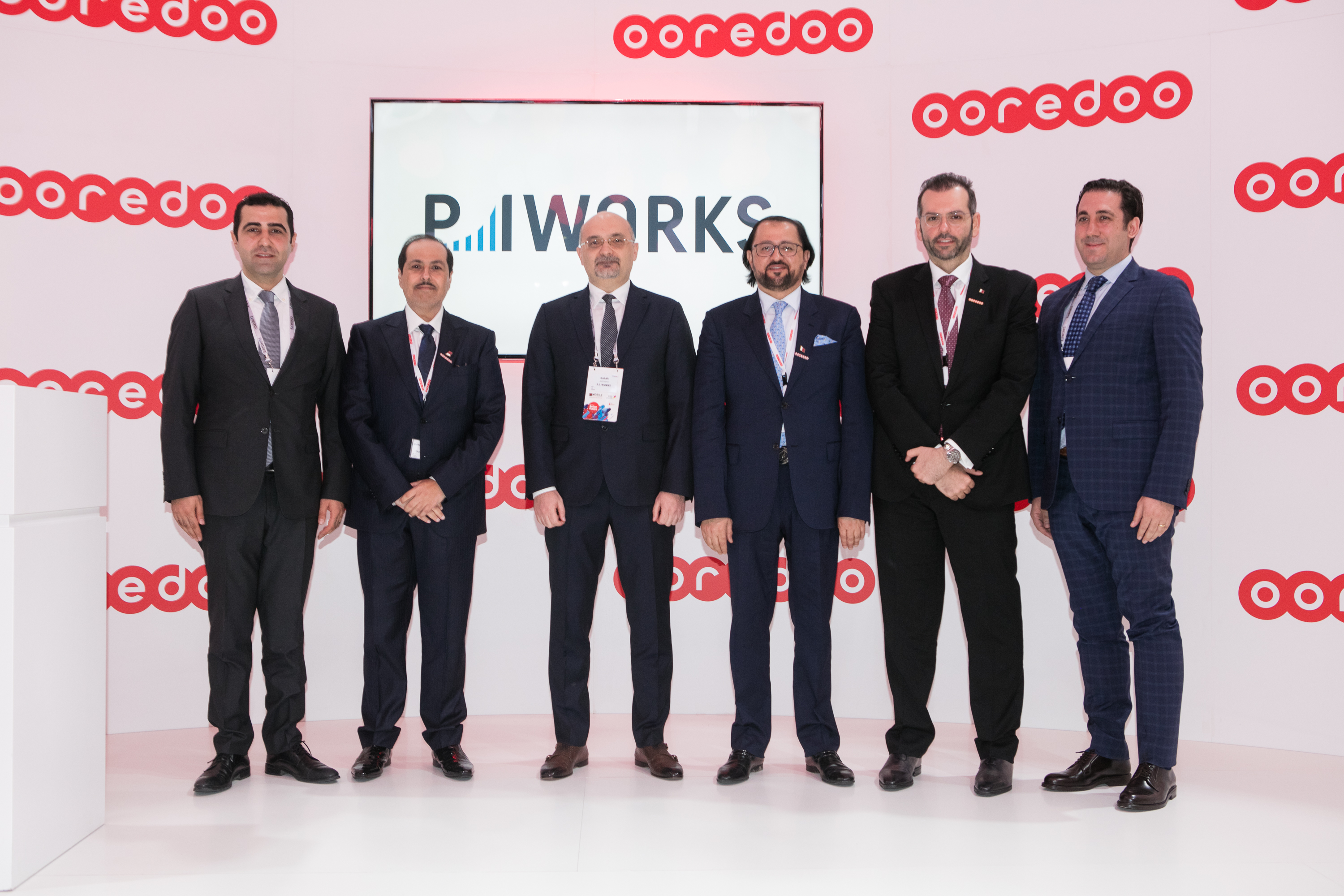 Ooredoo Group and P.I. Works Partner to Deploy Artificial Intelligence Innovations Towards 5G Transformation
Ooredoo Group kicked off Mobile World Congress by announcing the start of the deployment of artificial intelligence solutions to transform its network towards 5G, as part of a major partnership with P.I. Works that will significantly enhance the mobile data experience.

More than 160 million Ooredoo Group customers are set to benefit from more robust and widespread network coverage, more advanced mobile apps, enhanced capacity during mega-events, and the enablement of the next generation of 5G-based Internet of Things innovations.

Ooredoo Group is leading the charge of global communications companies expanding mobile broadband capacity and coverage by re-purposing network spectrum. In order to reduce network complexity, Ooredoo Group is now turning to Centralized Self-Organizing Networks (C-SON) solutions to enhance their network coverage, capacity, and end-user quality.

The partnership with global network solutions company P.I. Works will make Ooredoo Group one of the world's first communications groups to launch Centralised Self-Organising Networks (C-SON) across its operating companies in the Middle East, North Africa, and Southeast Asia.

Today's announcement was made in a press conference held at the Ooredoo Pavilion, in the presence of Waleed Al-Sayed, Deputy Chief Executive Officer, Ooredoo Group, and Basar Akpinar, Chief Executive Officer & Cofounder of P.I. Works, and a host of senior executives from both companies.

Sheikh Saud Bin Nasser Al Thani, Group Chief Executive Officer, Ooredoo Group, said: "At Mobile World Congress, Ooredoo continues to launch global firsts. In the mobile broadband and Internet of Things arenas, network management and optimisation are pressing issues facing communications companies. We are pioneering artificial intelligence approaches to transform our network, enriching people's digital lives and enabling our customers to fully enjoy the Internet."

The partnership with P.I. Works underlines Ooredoo Group's commitment to its key themes at Mobile World Congress, including the Ooredoo Network 2022, Digital Partnerships, and Digital Customer Experience, and will further support Smart Cities and Smart Stadiums.

Ooredoo Group's operating companies Indosat Ooredoo in Indonesia and Ooredoo Myanmar have already deployed P.I. Works' C-SON platform uSON, with strong results in optimising efficiency and costs in a short amount of time. Ooredoo Group is expected to roll out the uSON platform across all of its operating companies during 2018.

Başar Akpınar, CEO and Co-Founder, P.I. Works, said: "Ooredoo Group is one of the world's first communications groups using smart network optimisation to unleash the full potential of their mobile network, managing growing mobile traffic while reducing network complexity. We're exchanging best practices from Indonesia and Myanmar to scale up cost and quality optimisation across Ooredoo Group, and enable operating companies to build the connected world of tomorrow."

P.I. Works' uSON platform includes standard and advanced closed-loop C-SON functions for 2G, 3G, 4G, and 5G mobile networks. P.I. Works will also provide its HetNet aware optimisation capabilities, which can help Ooredoo Group operating companies to plan and manage the sites needed for small and macro cell deployments to further enhance network coverage.

About Ooredoo
Ooredoo is an international communications company operating across the Middle East, North Africa and Southeast Asia. Serving consumers and businesses in 10 countries, Ooredoo delivers the leading data experience through a broad range of content and services via its advanced, data-centric mobile and fixed networks.

Ooredoo served 164 million customers and generated revenues of USD 8.9 billion as of 31 December 2017. Its shares are listed on the Qatar Stock Exchange and the Abu Dhabi Securities Exchange.

Twitter: @Ooredoo
Facebook: facebook.com/ooredoogroup
LinkedIn: http://www.linkedin.com/company/ooredoo
YouTube: www.youtube.com/ooredoogroup

About P.I. Works
P.I. Works is a leading provider of next-generation mobile network planning, management and optimization solutions. P.I. Works combines field-proven expertise with a commercially available product portfolio and services. These solutions enable Mobile Network Operators to lower their costs and to improve network quality and subscriber experience. P.I. Works has deployed its solutions at more than 30 mobile network operators in 28 countries. P.I. Works also plays an important role in the development of key standards that define the future of mobile networks. P.I. Works contributes actively to the ETSI, GTI, and 3GPP standardization forum.